Landscape Stone Products
Adding landscaping stone to complement your plants and trees or even as a standalone feature can be a way to add color, texture and visually striking elements to your yard. Natural Stone is the most versatile asset for landscaping and can offer a large amount of ground cover with the least amount of maintenance.
Landscape Stone
Stepping stones offer an option for shady spots where there is not enough light for grass and other plants to thrive. They also help keep shoes clean when walking through your garden and around your side/back door. Flagstone is a durable and slip-resistant surface that will last for years.
Enhances Natural Beauty
Landscape stone instantly adds a touch of elegance and natural beauty to any outdoor area. With various colors, shapes, and sizes available, you can create a customized landscape design that complements the surrounding environment and reflects your unique style.
Low Maintenance
One of the standout advantages of landscape stone is its low maintenance requirements. Unlike grass or other organic materials, landscape stone does not require mowing, watering, or constant upkeep. This means less time spent on maintenance and more time enjoying your outdoor oasis!
Long-lasting Durability
Landscape stone is built to withstand the elements and stand the test of time. It is resistant to fading, cracking, and erosion, ensuring that your investment remains intact for years. This durability makes it a cost-effective choice, as you won't need to replace or repair it frequently.
Versatility in Design
Landscape stone offers endless design possibilities. From creating eye-catching pathways and stunning garden borders to constructing beautiful retaining walls and water features, the versatility of landscape stone allows you to bring your outdoor vision to life. Let your creativity run wild!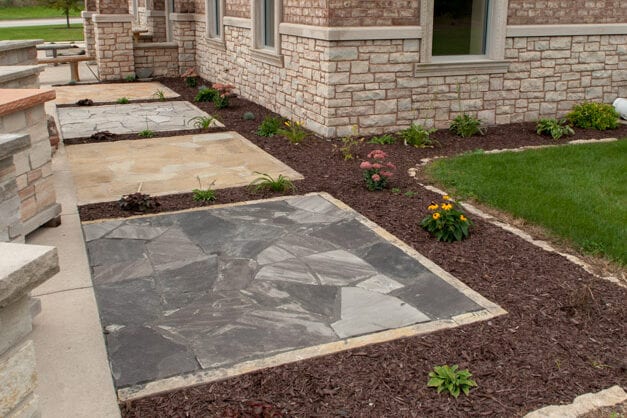 Environmentally Friendly
Choosing landscape stone for your outdoor space is an environmentally friendly choice. Unlike concrete or asphalt, which can contribute to heat islands, landscape stone helps to regulate temperatures, reduce runoff, and promote better drainage. It also requires fewer chemicals and resources for maintenance, making it a sustainable option.
Increased Property Value
A well-designed landscape can significantly enhance the value of your property. Landscape stone adds curb appeal and creates a visually appealing outdoor space that potential buyers or visitors will undoubtedly appreciate. It's an investment that improves your quality of life and pays off in the long run.
For solid answers on your next project and how you can incorporate natural stone, call us today!